There will be more performances lined up, please contact us for additional information.
2022 Lee Koon Hung Memorial Internal Tournament
Saturday September 17th, 9:00 am
Tournament held at our Sunrise School
7748 NW 44th St Sunrise, FL 33351
We welcome all of our friends and Kung Fu family to join us as we celebrate 29 years of excellence at Lee Koon Hung Kung Fu in the USA.
The day will open with a traditional lion dance and continue with competition in forms, weapons, sparring, and more!
There will be something for everyone: beginner through advanced, kids and adults. Don't miss out on the fun!
All former students are also invited to join in the competition!  Be sure to register and submit your form early!
You are important to us!  Please help make our celebration a success!
All students (current and former) must wear their uniform on that day.
All Ages – All Levels
There will be 3 Grand Championships. Adults, Teens & Kids
In Loving Memory of Grandmaster Lee Koon Hung
In 1968, Grandmaster Lee began our association in Hong Kong, and was considered one of the top Martial Art Masters of his time.  He opened our school in Fort Lauderdale in 1993 and hosted two hugely successful international tournaments that drew masters and competitors from all over the world.  Unfortunately he passed away in 1996. This tournament will be held in his honor, and we will compete and learn from our experiences using the Kung Fu that he passed down to us.
Lee Koon Hung Kung Fu 50th Anniversary & Master Exhibition 2019
Check out the 50th Anniversary Kung Fu Magazine and Chinese Newspaper Articles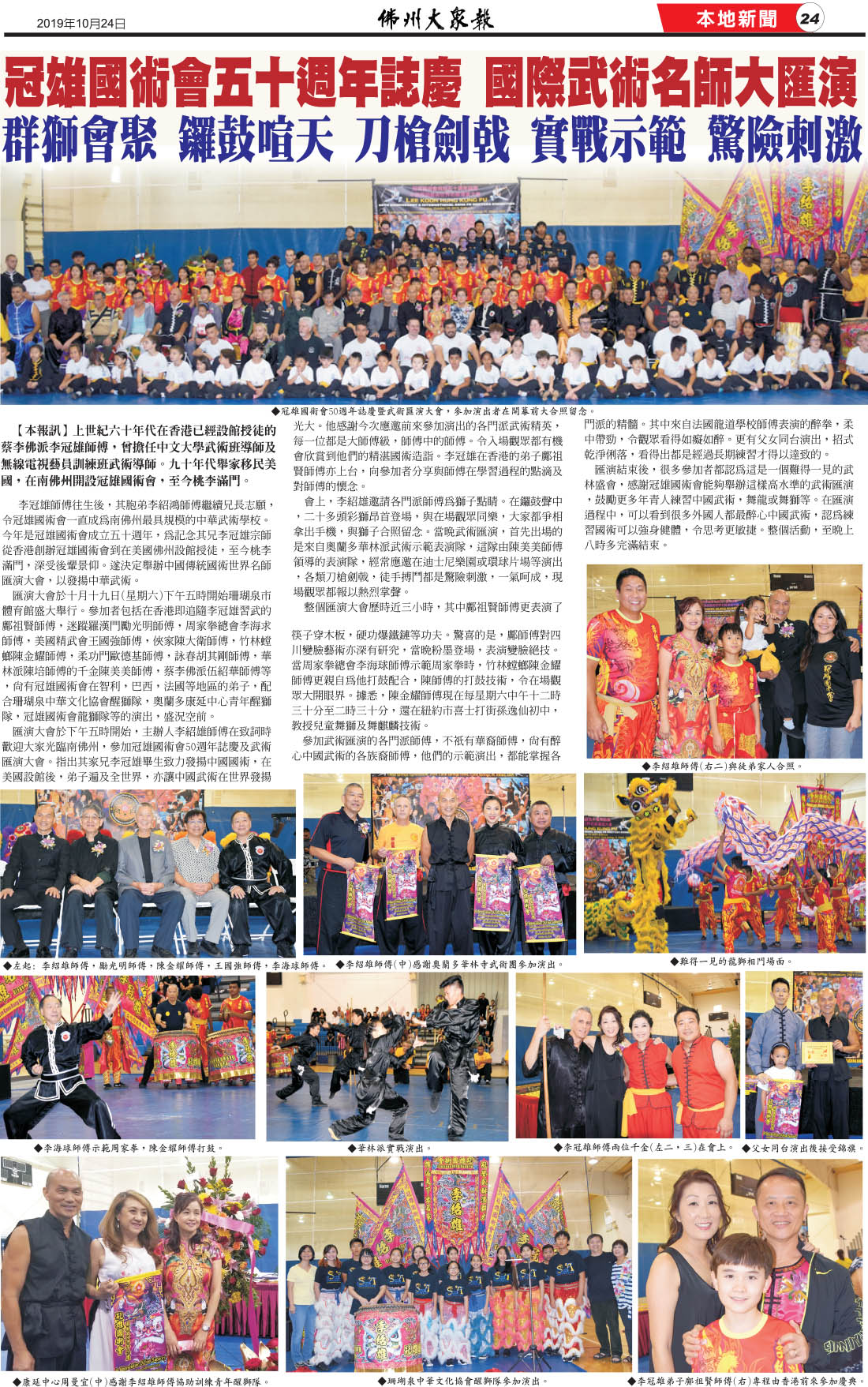 Check Out Our Newspaper Articles Pages
2006 Sunrise Grand Opening Lee Koon Hung Choy Lay Fut Kung Fu